News
America's Got Talent
---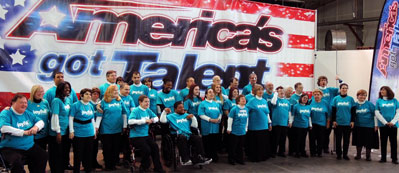 Singers shine during invited audition for America's Got Talent in New York City
Joyful Noise at Harvard
---


Joyful Noise and the Harvard-Radcliffe Collegium Musicum sing Nick Page's "You Have a Heart" in Harvard's Sanders Theatre
Joyful Noise in Harvard Magazine
---
Joyful Noise on Fox 29 News
---
Harvard University to Host Joyful Noise in Concert
---
By Andrew Clark and Mike Pfitzer*
Following Joyful Noise's moving July 4th performance honoring Bernie King, the ensemble was invited for a weekend residency at Harvard!
On Thursday, April 10, Joyful Noise's very excited singers will board a bus for Harvard. Once they arrive in Cambridge, they will rehearse with renowned American conductor, composer, and educator, Alice Parker. Joyful Noise will perform alongside the Harvard-Radcliffe Collegium Musicum and The Brattle Street Chamber Players in Harvard's prestigious Sanders Theatre on Friday, April 11 at 8 PM. They will also play a major role in a Saturday symposium on music in community.
The Harvard-Radcliffe Collegium Musicum, Harvard's premier mixed choir, is thrilled to welcome Joyful Noise to Cambridge for what we know will be a transformational weekend of choral music for us!
Joyful Noise is the perfect group to help lead our symposium on singing in community and on music and wellness. We look forward to having Alice Parker and Joyful Noise lead audience members in singing, imagining, movement, and expression. April 12 will be a meaningful day filled with singers' thoughts on the songs we sing, being a part of Joyful Noise, singing with friends, and meeting new people.
Harvard students will learn a great deal from the character, poise, and spirit of this remarkable ensemble, and we hope that through the exchange of our musical experiences, the Collegium and our local community will grow through collaborative learning with Joyful Noise.
We anticipate that Joyful Noise's trip to Massachusetts in April, combined with Collegium's trip to visit Joyful Noise in South Jersey in February, will inspire new projects and partnerships for the choral program at Harvard.
* Andrew Clark is director of choral activites at Harvard University, and Mike Pfitzer is choral associate.
February Newsletter
---
Joyful Noise February 2014 Newsletter
Joyful Noise to "Transform Our World" at Yale Festival
By Marguerite Brooks
During Joyful Noise's ACDA presentation in Providence, I held the microphone for a singer named Kevin. As Kevin began to sing, my first thought was, "He has an amazing voice!" And then, "Wow! He's really performing!" But what moved me most was that Kevin was singing totally from his heart. His poignant solo lifted everyone in the room to their feet. When Joyful Noise's singers perform at our Yale International Choral Festival in June, I expect the international audience to be similarly moved by their singing.
At Yale, Joyful Noise will be performing on the same stage and meeting singers from South Africa and China. In a way, this community of people with different abilities is like a foreign culture to some of us – just as much as a choir from China. This culture is not something we know enough about, and we need to know more about our fellow human beings.
Our festival's focus is "Choirs Transforming Our World." Joyful Noise is doing just that. By putting into action the philosophy that music is open to everyone, Joyful Noise is changing lives around the world. In June conductors from four continents will witness what Joyful Noise accomplishes with singers of different abilities and may consider providing access to this kind of experience in their own countries.
Yale is one of the world's most prestigious universities, yet many of our buildings are not wheelchair accessible. Often no one thinks this is a necessity. Joyful Noise demonstrates how much people with disabilities can achieve, and that they, too, deserve access to our halls of learning.
Allison Fromm, Joyful Noise's conductor, teaches her singers real musical skills. We in the choral field admire her high expectations, which are tempered by patience and love. Her singers listen to each other with respect, help each other, and radiate self-confidence. Their pride in their singing is visible and audible. It permeates everything! Audiences are surprised, moved, and clearly transformed by Joyful Noise's singing. We hear the quality of the silence in the room change from modest expectations to respect, gratitude, and awe.
At Yale we believe that singing in a chorus can transform everyone. Everybody can sing and should be allowed – no, encouraged – to sing. Joyful Noise spurs the rest of us to stretch beyond our own comfort level and embrace a larger humanity.
Marguerite Brooks has led Yale University's graduate program in choral conducting since 1985. Conductor of the Yale Camerata and Yale Pro Musica and an active choral clinician, Ms. Brooks assisted Joyful Noise in ACDA conference performances in both Chicago and Providence.
Mission to Inspire has National Impact
---
By Laura Knox, Joyful Noise Guest Musician
Joyful Noise members have always loved singing with all their hearts, but now their vivacity for song is spreading throughout the United States! In 2008 the singers adopted a "Mission to Inspire." Their March 2011 performance for the American Choral Directors Association's National Conference in Chicago prompted several conductors in the audience to begin planning choruses for singers with disabilities. Some of these ensembles are already rehearsing and giving concerts. A ChoralNet online "community" provides a forum for these new choruses to share ideas and inspire others. ACDA's Eastern Division invited Joyful Noise to form the core of a Festival Choir for singers with disabilities at its 2012 conference.
Northern Illinois choral director Steven Szalaj, who launched Encore! Joyful Noise in October 2011, reflected, "I was deeply touched by your session in Chicago, which demonstrated why we love choral music. It is, first and foremost a human art; that is - WE are the music. I'm sure it required quite an effort to make the trip to Chicago. Please know that your presence was worth every bit of energy that it took! Your performance also provided inspiration to begin an ensemble here in Crystal Lake. Folks here need a joyful noise!"
Verallen Kleihenz of Albuquerque, New Mexico, was similarly inspired by Joyful Noise's singing: "At the 2011 National ACDA Conference, the Joyful Noise chorus touched my heart in a way that no other performance during the conference had. I thought back to my own situation and my special needs son, who loves to sing but is not able to participate in a conventional choir. Watching this choir gave me hope for my son and others like him. With the help of two good friends, I started Expressions of Joy in June." In its first nine months, this new chorus has already given eight performances.
In April, conductor Don Martin wrote, "More than a year later I am still feeling the sensation of joy, love and gratitude that I received while experiencing the Joyful Noise Chorus at the ACDA convention in Chicago. That day, as I was enjoying my tears, I knew what I had to do: to offer folks here in Decatur [IL] the opportunity to sing together in a chorus. Our team would like to make a trip to NJ to see you and your singers, and gain some insights into how you have made things work."
Joyful Noise members truly love to sing, perform and share from their hearts. Their love of music is reaching across the nation, so that other adults with disabilities will have the chance to sing and share in the joy that comes from being a part of a performing ensemble.
Providence Singers Draw TWO Standing Ovations
---
By Mariann Granrath, Joyful Noise Parent
On February 17th, after six hours' travel by car, bus or train, 32 exuberant Joyful Noise members arrived in Providence, Rhode Island to rehearse and perform at the American Choral Directors Association's 2012 Eastern Conference. Their positive energy was contagious! As the core of the groundbreaking ACDA Festival Choir for singers with disabilities, Joyful Noise was joined by singers, choral conductors, and music therapists from New England, as well as by their beloved composers and guest conductors, Alice Parker and Nick Page.
Conductor Nick Page praised the singers for connecting so beautifully with their audience, "That was the longest ovation I have heard at an ACDA convention...the singers were brilliant." Jeffrey Douma, director of Yale University Glee Club, remarked, "I thought the group's performance in Providence was beautiful, uplifting, and inspiring. I was especially taken with the gentleman who sang 'Unchained Melody.'" Kevin, whose solo moved many in the audience to tears and elicited the first standing ovation, commented, "This was a new experience. My favorite part was singing 'Unchained Melody.' I was scared at first when Nick Page started playing the chords. Leslie recommended that we dedicate a song to George. And Kenny's conducting was like Beethoven's!!!"
Joyful Noise member Alex Siegel recalled, "I felt very good about myself up on the stage. I felt confident; I was comfortable. I had a great experience. My favorite part was the singing: it was a magical moment. I went up there and conquered my fear." As their performance concluded, the singers received a second long, cheering and standing ovation. One teacher in the audience told me, through tears, that she wished she could get a video and show it to her students at home. Bancroft staffer Joanne Shea mused, "it was a FABULOUS concert. Maybe not musically perfect, but more tear jerking perfect!" This adventurous, musical excursion changed the lives of many who were a part of it: both singers and listeners. Thanks to all who made this fabulous trip possible!
Harlem Globetrotters Showcase Abilities
---
By Cathy Sonnenberg, Joyful Noise Associate Director
On a sunny Saturday afternoon in March, 20 Joyful Noise members arrived at Trenton's Sun Center, full of anticipation. Thrilled to be singing the National Anthem at a Harlem Globetrotters basketball game, singers were escorted past the Globetrotters players' practice session into a locker room where they, too, warmed up for their performance on the court. Singer Todd Emmons glowed, "It was a dream to shake hands with some of the basketball players!"
When Joyful Noise began to sing, a hush came over the arena. The crowd stood in awe, waiting for the anthem to reach its final note, and erupted in cheers. Sathya Prabhakar proudly reminisced, "The singing was good....that made my day!" The choir then took seats in the stands to watch the game together. Singer Lisa Fay laughed, "The Harlem Globetrotters were SO funny! It was awesome singing the national anthem for them!" Elene Kurtzman, mother of Jodi, reflected, "The benefit to each singer in both achievement and enjoyment was evident and heartwarming. The focus was on their abilities, not their disabilities." Participants and audience members alike will remember this event for years to come.
May Newsletter
---
Joyful Noise May 2012 Newsletter
December Newsletter
---
Joyful Noise December 2011 Newsletter
August Newsletter: Thirteen New Members Love Singing with Joyful Noise
---
Joyful Noise August 2011 Newsletter

Joyful Noise Members Invited to Form Core of Nation's First ACDA Festival Choir for Singers with Disabilities
---
Updated June 30, 2011
By Paula Siegel, Joyful Noise Board
After the astounding success of Joyful Noise in Chicago, the applause of the thousand ACDA conference attendees is still echoing throughout the country! Our long-awaited encore performance will occur at the American Choral Directors Association's Eastern Division Conference, which will be held in February 2012 in Providence, Rhode Island.
Once again, members of Joyful Noise will break ground as the core of the Building Communities Festival Choir. This first-ever ACDA Festival Choir will be composed of singers with neurological and physical challenges singing along with music therapists and choral directors drawn from the Eastern Division's eleven states and the District of Columbia. As the inspiration for this new Festival Choir, we are honored that our own conductor, Allison Fromm, was invited to direct this historic choir. Allison will be joined by our longtime dear friends and renowned choral composers, Alice Parker and Nick Page.
As composer Steven Sametz predicted, our Chicago concert has been "planting seeds with wonderfully unpredictable results." Since our Chicago ACDA performance, dozens of choral leaders have contacted us, and choirs modeled after Joyful Noise have begun to spring up in many states, including Arizona, Illinois, Massachusetts, Michigan, Minnesota, New Mexico, Oklahoma, Oregon, South Carolina, Texas, and Wisconsin. Our goal of spreading music to everyone is becoming a mission of ACDA and countless others. In February, we shall lead the Building Communities Festival Choir and spread the joy of music even further – just wait and see!
If you are interested in learning more and perhaps participating in the Building Communities Festival Choir in Providence, Rhode Island, February 17-18, 2012, please review the vision statement and the online application or contact Cathy Sonnenberg.
The Windy City is Blown Away by Joyful Noise
---
Updated June 30, 2011
By Lela K., Joyful Noise Intern
On Friday, March 11th, 22 exuberant Joyful Noise singers from New Jersey and Delaware soared through the skies from Philadelphia to the windy city of Chicago. "It's good," stated Lizzie casually, "I liked Joyful Noise on the plane. " "I liked the flight," Rob agreed. As soon as the chorus landed, they embarked on a grand adventure filled with sightseeing, singing, socializing, and a concert at the Chicago Hilton's premiere venue, the Grand Ballroom, as part of the American Choral Directors' Association 2011 National Conference.
From Midway Airport, the chorus dashed off on a bus tour through Chicago, past President Obama's home, and on to the Shedd Aquarium to visit the whales and dolphins and perform in front of the enormous Caribbean Reef. Museum-goers were mesmerized by the singers' dynamic and lively presence. In Josh's opinion, "The aquarium was the best part; singing and fish."
Afterwards members dined in fine style at Hilton's Pavilion restaurant with their family members, friends, choral directors, Bancroft staff members, and renowned choral conductors, Alice Parker and Nick Page. With their appetites quenched, some members visited the pool and hot tub, and then all rested their voices and eyes.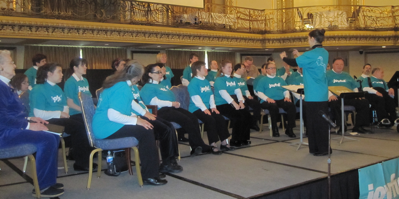 Joyful Noise warms up on stage in the Chicago Hilton's Grand Ballroom (photo by Lanny Edelsohn)
The next morning at 9:30 am, the singers filled the stage of the Hilton's opulent Grand Ballroom and warmed-up. Alex describes the routine as hard but rewarding. "I felt so excited and proud of myself to be on the stage. Warming up is serious work because it's a vocal exercise to make your voice stronger."
By 10:30 am, the once spacious room was crowded with over a thousand conductors. According to Richard, "The concert was exciting. The best part was when all the people came in!"Soon, the conference audience was on its feet, singing along. John was pleased with the choir's spectacular performance. "It was nice. I liked the song and Joyful Noise. I liked Alice Parker's piece. We were on the news!" he said.
After the concert, singer Rob E spoke for everyone when he asked, "That was fun. Can we do it again?" Topping her enthusiasm for the flight and the aquarium, Saturday's performance had a special place in Lizzie's heart. "The most fun was singing," she declared with utmost certainty. "All the people cheered and cried and clapped when the show was over because Joyful Noise singers did such a wonderful job, a fantastic job, a sensational job, a perfect job! I felt proud inside because it was a great honor to let me appear on stage and entertain for all the people," beamed Alex.
Singers Wow Conductors in Chicago
---
"No one was showing off. Joyful Noise was simply singing from their enormous hearts. Alice Parker is right when she says that it is deeply spiritual. Joyful Noise makes Zip-A-Dee-Doo-Dah into a prayer, a celebration. For me, Joyful Noise is an unlimited expression of the universe, alive in the wonder of it, engaged and alive. After the celebration, a man said to me, 'It was so moving. I felt like crying.' I asked, 'Why didn't you?"
Nick Page, Composer, You Have a Heart.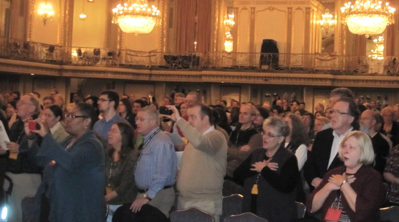 ACDA conductors join in singing "You Have a Heart" in the Chicago Hilton's Grand Ballroom (photo by Lanny Edelsohn)
For more Chicago photos, please visit: Joyful Noise Facebook
"The beginning of Sound of Music was truly the highlight of my conference experience: It was pure, beautiful, and everything that is excellence in the arts. I needed that cry...THANK YOU!"
Craig Gregory, Assistant Director, ACDA
"It was wonderful indeed to be brought back to the central message of singing: do what you love to do. Witnessing the joy coming from your singers (and the pros united to help you as "back-up") was quite inspirational. For me, it was a highlight of the convention. You're making a huge impact, starting a national movement, and generally changing the planet for the good. I don't know if that's what you set out to do, but let's not underestimate the intentional or unintended consequences that our work can have. What I saw at the convention could certainly be planting seeds with wonderfully unpredictable results."
Steven Sametz, Composer, "Bonse Aba"
June Newsletter
---
Joyful Noise June 2011 Newsletter
2010-11 Fund Drive Update
---
Updated June 30, 2011
By Christine Dwyer, Joyful Noise Co-Treasurer
Traveling to Chicago and singing with Alice Parker and Nick Page for the American Choral Directors Association conference was absolutely thrilling for our members! Yet, as you can imagine, substantial travel expenses were involved. This extraordinary opportunity to sing at a prestigious national conference inspired many of our supporters to help defray the costs. To date, 147 donors have contributed $24,784 toward our $30,000 goal. In addition to many individual gifts, Joyful Noise is fortunate to have received 11 corporate sponsorships and charitable grants from: Bancroft, Blessed Teresa of Calcutta Parish, BNY Mellon, Center Metal Fabricators, English & Associates, First United Methodist Church of Moorestown, NJ, Glenmede Foundation, Heels and Soles, Homes for Life Foundation, Masterwire Manufacturing, Party of Six – Passariello's Pizzeria, and Wild Rock, West Virginia.
We are so thankful for everyone who helped provide for the historic Chicago performance and for rehearsals every week in New Jersey and Delaware! Even the smallest donation makes a difference by supporting musical opportunities for our singers. Contributions of any amount are always needed and will be most gratefully received. Please send checks made payable to Joyful Noise to:
Christine Dwyer, Treasurer
Joyful Noise
17 Springbrook Road
Morristown, NJ 07960
Donors may also contribute online via PayPal.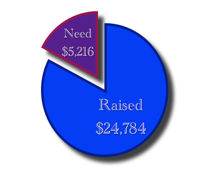 Joyful Noise in Chicago
---
To date, Joyful Noise members have given performances in four states: New Jersey, Pennsylvania, Delaware, and Connecticut. They are about to add Illinois to their list! The American Choral Directors Association and Alice Parker have given Joyful Noise a tremendous honor: members have been invited to perform for ACDA's 2011 National Conference in Chicago!
ACDA believes that this is the first time a chorus of people with disabilities has been invited to sing at its biennial national conference. The ACDA selection committee wrote us that they had considered over 150 potential Interest Sessions, and that we were among only 25 chosen for the March conference. Wow! What a privilege!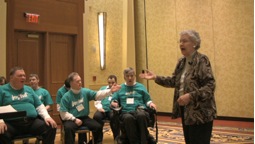 Alice Parker leads Joyful Noise at ACDA in Hartford in 2008
Joyful Noise's member representatives who sang for ACDA's 2008 Eastern Division Regional Convention in Hartford have told us how exciting it was to receive a standing ovation from a room full of conductors who love singing as much as we do. Singer Todd Emmons explains, "Hartford was the most wonderful trip of my life. Meeting conductors from around the country was a dream come true. And I love Alice Parker. She's one amazing woman!"
More of our composers, including Steven Sametz and Nick Page, will join us in Chicago. It will be an incredible adventure! We are grateful to ACDA and all the families, friends and staff who will make this exciting trip possible.
2011 Fund Drive Update
---
Updated February 23, 2011
By Christine Dwyer, Co-Treasurer
The prospect of traveling to Chicago and singing with Alice Parker for the American Choral Directors Association (ACDA) conference is thrilling for our members! Yet as you can imagine, substantial travel expenses are involved which neither ACDA nor Bancroft is able to subsidize. We hope that this extraordinary opportunity to sing at a prestigious national conference will inspire our supporters to help defray the costs. To date we have raised $20,382 toward our $30,000 goal. Contributions of any amount are needed and will be most gratefully received. Please send checks made payable to Joyful Noise to:
Christine Dwyer, Treasurer
Joyful Noise
17 Springbrook Road
Morristown, NJ 07960
Joyful Noise to Perform in WHYY Studios
---
By Lela Kulkarni
Joyful Noise has been invited to perform in the WHYY studios in Philadelphia! Our concert will precede the January 20th screening of For Once In My Life, a documentary, which will air on PBS's Independent Lens on February 1st. Hosted by WHYY and Community Cinema, the concert and film screening will be followed by a panel discussion featuring our very own singers, Ingrid and Todd!
For Once In My Life documents a critical time in the lives of 28 musicians who make up Miami's "The Spirit of Goodwill" Band. In four weeks, they must prepare to perform for the prestigious 2008 U.S. Mayor's Convention. The singers and instrumentalists are faced with physical and neurological challenges, yet they have an exceptional ability to make memorable music. In the end, the convention audience is left with an impossible task: embracing music with the same energy as the Goodwill Band.
Since Joyful Noise's singers reflect the same bold passion for music as "The Spirit of Goodwill" Band, WHYY and Community Cinema invited us to perform, speak, and connect with local students, activists, and citizens who may find our mission compelling. We hope this evening will inspire and remind everyone present that music enriches all our lives.
With pleasure, we welcome family and friends to preview this unique film and to listen to our singing and our story – free of charge. The screening will take place at 6:30 pm (doors open at 6:00 pm) on Thursday, January 20th, 2011. All who wish to attend are required to RSVP – either online or by calling 215-351-0511.
Click here for directions and parking information.
"Radical Hospitality" – Benefit Concert and Spaghetti Dinner
---
By Victoria McGrath
My name is Victoria McGrath. For the past year and a half, I have been a student chaplain at Bancroft, as I study for my divinity degree through Asbury Theological Seminary. One of the surprise blessings I have discovered (and there have been many!) is to get to know the singing group here called Joyful Noise. If you have never seen them perform before, it is a treat! This coming year the chorus has been invited to sing at the American Choral Directors Association Convention, which will be held on March 9-12 in Chicago, Illinois. They are the only singers with disabilities who have ever been invited to perform at this convention, and it is a great privilege for them! The cost of such a trip for the singers, however, not to mention the medical/support staff they will need to accompany them, is quite a challenge!
At my home church, First United Methodist Church in Moorestown, NJ, we adopted a mission statement last year of hoping to provide "Radical Hospitality" to our surrounding community, as we seek to share the love of God in our lives with those around us. In that same spirit, our Music Department has invited Joyful Noise to perform a concert at our church on Saturday, January 22nd, 2011 at 7:00 P.M. The concert will be preceded by a Spaghetti Dinner, which begins at 5:00 P.M. (Tickets for the dinner are $10 for adults, $5 for children; a free will offering will also be taken at the performance.) All the proceeds from the evening will be donated to Joyful Noise, to help fund their trip to Chicago.

We are located at the corner of Camden and Pleasant Valley Aves. in Moorestown, NJ; we have ample parking and an accessible facility for all. I am sure that this remarkable group of singers, with their spirit and life and music, will warm your hearts on a cold January evening! Please mark this special date on your calendars and join us all as we celebrate a Joyful Noise!
First United Methodist Church
446 Camden Ave., Moorestown, NJ 08057
856-235-0450
Butterfly Ball Performance Amazes Guests
---
Thirteen Joyful Noise representatives were very excited to open Bancroft's Annual Butterfly Ball on October 22 at the Mt. Laurel Westin. First on the evening's program, the chorus was introduced by Dinner Chair Ron Jaworski, former Philadelphia Eagles Quarterback. Members sang a medley beginning with "One World For Everyone" and "Zol Zain Sholem" (Let There Be Peace) and concluding with Jon Washburn's "The 'We Love to Sing' Song" and Nick Page's "You Have a Heart" – two commissioned pieces funded by a grant from the Philadelphia Eagles.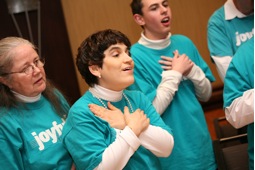 Myrlie, Beth & Alex sing Nick Page's "You Have a Heart"
The Joyful Noise performance brought the audience of almost 300 Bancroft friends and supporters to their feet in an enthusiastic ovation, and it brought broad smiles of pride to the faces of our singers!
Three days before the event, singer Leslie Weeks admitted, "I have butterflies in my stomach!" Her roommate, Iris, reassured her, "We were awesome on Bancroft Day, and we can be awesome again!" Without having heard Iris, Ron Jaworski heralded Joyful Noise's performance as "awesome" and "absolutely spectacular!"
According to the Bancroft Buzz, the Butterfly Ball "was an extraordinary success in terms of raising needed funds [for Bancroft], and also in spreading awareness of our important mission to new friends and associates. Early reports show $335,000 in proceeds -- $10,000 higher than goal!"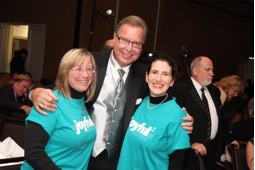 Former Eagles QB Ron Jaworski congratulates Cathy and Allison
Bancroft President Toni Pergolin noted that, "The evening was especially meaningful because of the participation of Joyful Noise. Their performance was very moving for many of our guests. The group kicked off the festivities and brought everyone to their feet." She continued, "We are all working together to alter perceptions and support those with intellectual and developmental challenges and acquired brain injuries in achieving their life goals as valued and respected members of our world. I can't think of a better way to do that than through music!"
Singers were treated to refreshments before returning home with happy memories of this latest fulfilling experience. Their performance was featured in an NBC-10 News broadcast, thanks to Joyful Noise parent Gary Herman. We are grateful to family members and to the Bancroft staff who helped to make the occasion so successful.
Bancroft Day Prompts Benefit Invitation
---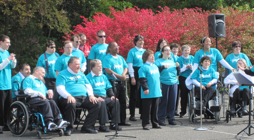 Singing "under beautiful blue skies" on Bancroft Day
On Saturday, October 16th in Cherry Hill's Challenge Grove Park, Joyful Noise launched the Bancroft Day festivities with a concert of favorite melodies and songs written especially for us. Singer Jessica Herman exclaimed, "I had fun singing at Bancroft Day! It made me happy." Jessica's dad, Gary Herman, elaborated, "Under beautiful blue skies, Allison, Cathy & Rob led the singers in a memorable performance. My daughter, Jessica, never stops talking about the rehearsals and performances. Singing is truly one of her favorite activities. She's been musical her entire life, and Joyful Noise gives her an outlet for those talents."
Joyful Noise's Bancroft Day performance moved Bancroft's Ministry Intern, Victoria McGrath, to approach her church, First Methodist Church in Moorestown, about hosting a Spaghetti Dinner and Benefit Concert to raise funds for Joyful Noise's trip to Chicago. The benefit will be held Saturday, January 22, 4:30 PM. We are grateful, Victoria!
Singers Boogie at 10th Anniversary Celebration
---
By Nancy Longo, Joyful Noise family member
The year 2010 marks Joyful Noise's 10th Anniversary of existence! Because it was such a special occasion, members, former members, family, friends, and staff celebrated with a party and dance at the Lindenwold Moose Lodge on September 11. Members got a chance to take a list of over 200 songs that they had sung over the past 10 years and vote for their favorites. Everyone sang the Joyful Noise Top Ten, and the surveys were put into a basket, so that each guest could choose one of 74 prizes when his or her name was drawn.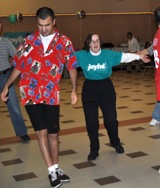 Joyful Noise members dance up a storm
Photo by Marshall Kurtzman
Teri Reed, our first Bancroft Coordinator, was our DJ. Many danced to the music or tapped their toes to the rhythm. Joyful Noise shared two favorite songs. It was great to see Joyful Noise alumni and friends, as well as Mark Gary, Teri Reed, and Maggie Hofmann. We were treated to a brief sing-along led by guest artist Dr. Caroline Eggerding, who accompanied us on the accordion to demonstrate the pleasure of lifelong learning.
We want to thank all our generous Joyful Noise donors and especially Frank Purcell and fellow members of the Moose Lodge for their kindness and generosity
Singer Enjoys Spotlight
---
By Alex Siegel, Joyful Noise member
I was on television last night on Fox 29 News at 10:00. I sang with Joyful Noise at the Music Festival at the Cherry Hill JCC [Jewish Community Center]. It was a very great day because I sang there from the morning until the sing-along concert ended at night. It's not tiring for me and it's not exhausting. It's easy now for me to entertain people, and I've got friends there who are very good to me. They say, "You're amazing!"
Grandmom was happy with me because I behaved nicely and I cooperated nicely. It's my life dream to be an entertainer forever. I already have a job at Sweet Success [Bancroft's convenience store] and I get a paycheck for important activities like Joyful Noise. I have to pay my dues to belong to Joyful Noise. Entertaining is a lot of fun! It's my dream and my dream already came true!
Bancroft Leaders Enjoy Singing with Nick
---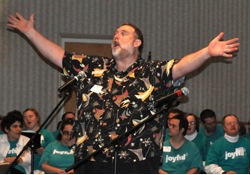 Nick Page leads everyone in song at the Katz JCC
Bancroft President Toni Pergolin had a wonderful time singing with Nick Page and commented, "I thoroughly enjoyed the whole experience! Nick Page was amazing! And I continue to be impressed how singing together brings out wonderful talents in all those we serve! I also noticed how well they support each other, a real team effort." Vice President Dan Keating, an avowed non-singer, confessed, "It was a wonderful event and I must admit that I did sing along and tap my feet. It was very nice to meet Nick Page…. What a wonderful person and what a great job he does interacting with the singers and making them a part of his world."
Nick Page Inspires All
---
By Paula Siegel
As an all-day volunteer at the Singing From the Heart Music Festival and Community Sing on June 29th at the Katz JCC in Cherry Hill, I had a bird's eye view of an amazing event! Boston-based composer and song leader Nick Page was featured, with The Joyful Noise Chorus, the Katz JCC ACHaD Department, and Kardon Chorale of Philadelphia. The most startling thing, to me, however, was the opportunity to observe Mr. Page relate to the singers and impart his enthusiasm and skill. From 10:30 in the morning until the day's schedule concluded with the sing-along at night, Mr. Page held a rapt audience. As a retired teacher, I could appreciate Nick's finesse in engaging the participants so completely that, as my grandson Alex remarked, he never felt tired or exhausted! Rather, the participants were energized by Nick's creativity and his heartfelt affirmations of their capability and potential.
By welcoming and incorporating the community at large in this remarkable Festival of Music, Nick Page, along with all the supporting individuals and organizations that helped make it a reality, truly promoted the concept of ONE WORLD. FOR EVERYONE. It is easy to see why many in the audience who were there as listeners, found themselves singing along as one entity and were brought to tears by this moving experience. I, for one, will never forget it!
Joyful Noise Invited to Perform in Singing City's "Voices of Philadelphia" Concert
---
By Jan L. Apple
Joyful Noise will perform in Singing City's "Voices of Philadelphia" annual Youth and Family Concert on Saturday, March 20, 2010, at 7 p.m. at The Church of the Holy Trinity, Rittenhouse Square. Singing City, a Philadelphia choral group in its 62nd season, has a mission of "uniting diverse peoples through choral arts." Two other guest choirs will also be featured: Chester Children Chorus and Northeast High School Concert Choir.
Jeffrey Brillhart, Singing City's Music Director, first heard Joyful Noise sing last June at Chorus America's annual conference in Philadelphia. "I had never heard of a choir that was created for adults with special needs," said Jeffrey. "Within a minute, I was overcome with emotion. The exuberance that everyone sang with and the love that they generated was unlike anything else I had ever experienced before from a choir. The title of the group completely captured what was going on there."
Jeffrey felt an affinity with the singers because he has an adult sister with special needs. Julie, 52, who lives in Iowa where they grew up, sings weekly in a church choir. "I know how incredibly important music is to her," stated Jeffrey. "That one hour of rehearsal is the highlight of her week."
Captivated by Joyful Noise's performance, Jeffrey contacted Music Director Allison Fromm, and invited the group to join Singing City's annual youth and family concert. Allison was excited and encouraged by Jeffrey's invitation. "I want people to know that a chorus like ours exists and how powerfully members can connect with their audiences," she said.
After Jeffrey mentioned that he and his sister had never performed in a concert together, Allison asked him whether Julie would like to participate in the concert with Joyful Noise. Jeffrey will be flying his sister to Philadelphia to rehearse and perform with Joyful Noise. Allison sent music and recordings so she can practice at home in Iowa. "She is delirious with excitement," Jeffrey said. "This is truly a dream."
With a Philadelphia Eagles grant, Joyful Noise has commissioned nine original pieces by highly regarded composers. The group will perform four of these pieces in Singing City's concert. The concert finale will feature all four choirs singing Steven Sametz's "Bonse Aba (All Children Sing!)," composed for Joyful Noise to premiere at the Chorus America conference. Members are thrilled to be performing one of their favorite pieces with more than 200 singers.
Tickets for the "Voices of Philadelphia" concert are $20 general admission; $15 for seniors/students. Tickets may be purchased at the door – Church of the Holy Trinity, Rittenhouse Square, 1904 Walnut Street.
For more information, contact Nancy Longo.
Joyful Noise to Perform for Chorus America in Philadelphia
---
By Wendy Siegel
Enthusiasm fills the Flicker Center on Tuesday evenings, as Joyful Noise prepares for its very exciting June 11 performance in Philadelphia at the 32nd Annual Conference of Chorus America. The gathering of this organization of more than 1,600 members from North and South America will offer conductors, arts administrators, singers, music business executives, and choral music lovers the chance to see and listen to our Joyful Noise. Since the goal of Chorus America is "….building a dynamic and inclusive choral community so that more people are transformed by the beauty and power of choral singing," it is a perfect venue for what our singers do so well. We anticipate that Joyful Noise will transform a lot of musicians that day!
The chorus will sing in a workshop entitled Commissioning for the "Exceptional" Chorus: Building Connections via New Works for a Choir with Neurological and Related Disabilities. Allison has asked several noted composers to share their process of creating simple and well-crafted pieces that resonate with both the chorus and its audience. Each composer will lead Joyful Noise in a short new piece and will engage the audience in singing along. Alice Parker has composed an exquisite and very moving lullaby for the event; our own Rob Kennan has crafted a special song about emotions, entitled "Do You Understand?"; Edie Hill has created a delightful ode, "We Sing with Heartfelt Joy!"; and Steven Sametz has set to music "Bonse aba (All Children Sing!)," a traditional Zambian text, to be accompanied by marimba & percussion.
As you can imagine, extra expenses are involved which neither Chorus America nor Bancroft is able to subsidize (commissioned works, guest conductors, transportation, video conferencing services, meals, etc.). Although our annual fundraising appeal will be sent in the fall, we hope that this extraordinary opportunity to sing at a prestigious national convention will inspire our supporters to help defray the costs. Contributions of any amount are needed and will be most gratefully received. Please send checks made payable to Joyful Noise to:
Christine Dwyer, Treasurer
Joyful Noise
17 Springbrook Road
Morristown, NJ 07960
The Conference will be held in Philadelphia, June 10-13 at the Hyatt Regency at Penn's Landing. For conference and location information:
Hyatt Regency Philadelphia at Penn's Landing
Fund Drive Update
---
Updated May 27, 2009
By Christine Dwyer, Co-Treasurer
In December Joyful Noise launched its 2008-2009 Fund Drive. In this challenging economic time, many people are reducing their spending and being cautious about their charitable contributions. Yet Joyful Noise continues to receive gifts from current and new donors. In response to our December letter, 67 individuals and businesses have contributed $8,345.00. Thank you!
Despite the economy, Joyful Noise hopes to approach last year's success, when more than 100 contributors gave over $17,000. Our upcoming appearance at the Chorus America Annual Conference in Philadelphia is truly a momentous opportunity, which promises to be memorable for our members. As noted above, we will deeply appreciate contributions of any amount to help offset the expenses of this wonderful event!
Joyful Noise Performs for Governor Corzine
---
By Caroline Eggerding, MD, Vice-President of Clinical Services and Chief Medical Officer, Bancroft NeuroHealth
Singers from Joyful Noise were on hand to welcome Governor Corzine to South Jersey on April 30, 2009. The Governor visited the offices of Dr. Mintz and CNNH (The Center for Neurological and Neurodevelopmental Health) in Voorhees, NJ as part of Autism Awareness Month. Conducted by Associate Director Cathy Sonnenberg, Joyful Noise led families and state officials in the singing of our National Anthem.
The request that Joyful Noise participate in this visit came with very little notice and the singers (and their supporters!) rallied to rehearse, change schedules and arrange transportation. Several members of the choir were able to greet the governor personally and all sang beautifully and with pride in their country and their own musical talents.
Celebrating Bancroft in Delaware:
Bancroft's 125th Anniversary Songbook
---
By Marshall Kurtzman & Wendy Siegel
On February 1 the New Jersey contingent of Joyful Noise traveled south to join with their Delaware brethren in a stunning performance. Thanks to Rob Kennan, St. Paul's Methodist Church in Wilmington, Delaware opened up its beautiful facilities for this performance.
Joyful Noise continued to celebrate Bancroft's 125 years with songs from their 125th Birthday Songbook. Replete with costumes and a lighthearted repertoire culled from every decade of Bancroft's existence, our singers delighted the audience with oldies but goodies such as "Take Me Out to the Ball Game," "Happy Days are Here Again," and "Button Up Your Overcoat." Each song was enhanced by a costume reflecting the lyrics. The singers were thrilled by the audience's warm reception.
Following the performance, singers and guests were served a dinner by St. Paul's congregants, who shared a wide range of delicious dishes. It was a great day for everyone. All the Joyful Noise singers from both NJ and Delaware had a fulfilling and enjoyable experience.
Singing -- Of, By and For Whom?
---
Editorial by Alice Parker
In Southern New Jersey, there is a remarkable chorus called Joyful Noise, which unites adults 'with physical and neurological challenges to develop a sense of pride, confidence, self-esteem, value and the potential to contribute to our world.' In February they presented a session at the ACDA Eastern Regional Convention in Hartford, CT, led by their founder and director Allison Fromm, and myself.
I became interested in the group when Allison brought a video of one of their programs to a Chorus America Conference. Here was a group of people literally lifted out of themselves in the act of singing. It was a clear demonstration of the true value of choral song: it may lead to transcendence for all of us. We lose for the moment the constraints that our existence places around us, and merge our voices and minds in the sound coming from our throats.
It doesn't happen by accident. In this case, there's a large amount of background planning – just getting people there (most are supported by Bancroft Neurohealth and live in surrounding communities), providing a gathering meal and aides, choosing repertoire, leading rehearsals and appearances, providing transportation and, in the case of Hartford, overnight accommodations. Conductors of this kind of group must truly have a sense of being called to their profession, and must gain their principal satisfaction from the effect of the singing on the singers.
Do we teach this in our schools and conservatories? Most of the time we seem to be dealing in ideals: the perfect, balanced sound, the careful diction, the historical accuracy, the formal concert. There's nothing wrong with this, but it is surely not the whole picture. My thoughts about preparing leaders to work with choruses like Joyful Noise can also be applied to working with small children, or in retirement homes, or hospitals and nursing homes. The difference seems to be in the principal aim of the activity: is it to serve the 'art', or the 'people'? I don't mean to force a choice: in the best cases, it does both. But I believe firmly in art-for-humans'-sake. And when one begins with that presumption, the other goals fall into a different relationship.
Joyful Noise will never sing with a perfectly focused tone, pure intonation or a balanced texture. But they can aim at those things, as Allison does in each rehearsal. There's a warm-up period with stretches, tunings and lip-and-tongue calisthenics. There's movement, laughter, listening to one another, competition for solo lines, and uninhibited comments on their current achievements. But there's also deep breathing, improved posture, moments of lovely sound and clear words and communicative intensity. New songs are taught by rote and old songs polished. Rounds are attempted and triumphantly achieved. About half the singers like to have a book, but most work is done by ear and heart.
And do they love to sing! It's visible in their faces and bodies, in their enthusiasm for the songs and the way they reach out to audiences as they perform. They are literally moving in a world without disabilities, restored and made whole by their absorption into the universe of sound. One wheelchair-bound singer told me of her first experience of floating in water – the incredible sensation of feeling no weight pulling her body down, of being able to move freely as others did. I think the singing makes a similar difference for all these singers, and for all of us human beings.
We can lose our fears and disabilities, we can overcome our intellectual, linguistic, physical and spiritual differences, we can work with our neighbors to achieve a common goal, we can transcend our daily lives in the act of singing together. When leaders hold this as the aim, and regard the technical aspects of the 'art' as means to that end, lives can be transformed. Lives will be transformed, and perhaps the political world as well. "Make babies, not war", said the bumper stickers of the 60's. What's our counterpart? "Sing together, not alone". Or "Singers of the World, Unite". Or how about a "United Nations of Song", where all the choruses of the world join to out sing the voices of hate, fear, pride and selfishness that divide us. Now that would truly be a Joyful Noise!
reprinted with permission from Melodious Accord Newsletter, March 2008
UIUC News Bureau
---
The News Bureau of the University of Illinois at Urbana-Champaign recently published a story on Joyful Noise titled "U. of I. music student leads choral group of persons with disabilities."
Click here to go to the News Bureau site to read the article.
In The News
---
Joyful Noise members seem to have captured the hearts of the Philadelphia and New Jersey media! KYW radio recorded a rehearsal and broadcast interviews with two of our members in early December. Our December 2 concert at the Discovery Museum appeared on FOX 29 news and ABC Action News 6. Our December 11 Holiday Showcase with Kardon Chorale appeared on NBC 10 News and CBS 3 Eyewitness News. CBS also included Joyful Noise's performance in its holiday special, Celebrating the Season, which aired on December 18, 25 & 26.
Area newspapers are covering Joyful Noise's Mission to Inspire and trip to Hartford to sing with Alice Parker. On January 8, the Courier Post published a feature article with photos of our performance with the Kardon Chorale. The Philadelphia Inquirer also published a feature article on January 20!
Click here to view the Philadelphia area news broadcasts on Joyful Noise.
Click here to read the Courier-Post feature on Joyful Noise.
Click here to read the Philadelphia Inquirer feature on Joyful Noise.
Fund Drive Update
---
Updated March 20, 2008
By Christine Dwyer, Treasurer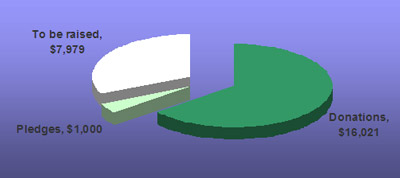 Since December 2007, 105 contributors have donated $16,021 and one additional sponsor has pledged $1,000 for a total of $17,021. We have achieved 68% of our goal and hope to raise an additional $7,979.
Our Fund Drive is helping to subsidize our singers' travel and staffing costs for the February 15 trip to Hartford, where we sang for the American Choral Directors Association 2008 Eastern Regional Convention. Members were thrilled to sing with Alice Parker and to receive a standing ovation from more than 100 conductors! Funds raised also enabled us to present a Saturday afternoon concert and sing-along for Hartford area residents with disabilities, their families and caregivers, and the broader Hartford community as part of our Mission to Inspire.
Joyful Noise's presentation at the ACDA convention inspired several performance invitations from new friends! Gifts from our friends and families will enable us to accept these wonderful invitations.
We are very grateful to all the individuals and businesses listed on our Donor Honor Roll and Partners pages for their generous support! Contributions in any amount are deeply appreciated.
Please consider adding your name to our lists of friends & supporters by printing out our donor form or donating online. Then check for weekly updates on our progress.
On a Mission to Inspire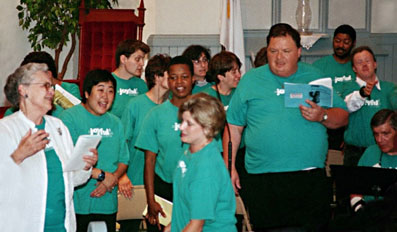 Alice Parker and the Joyful Noise Chorus
This season, Joyful Noise has initiated a Mission to Inspire to bring their joy of singing to conductors, music therapists and educators from the Mid-Atlantic and New England regions.
The American Choral Directors Association has invited Joyful Noise to appear at the Eastern Regional Convention in Hartford, Connecticut on February 16, 2008, when members will demonstrate their learning process for conductors from throughout the region. Renowned composer, conductor, and song leader, Alice Parker, who led Joyful Noise in their Melodious Memories concert in June 2004, will once again join Joyful Noise for an interest session entitled, Melodies that Sing: We Love to Sing this Song. Joyful Noise Director, Allison Fromm, explained, "We hope that our singing will inspire musicians in other states to launch similar ensembles and enrich the lives of people with disabilities in their own communities."
Discovery Museum Loves Joyful Noise
---
By Mark Gary
On March 31, 2007 the members of Joyful Noise returned to one of its favorite performing venues. The singers served as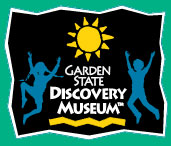 minstrels to the patrons at the Discovery Museum in Cherry Hill, capping its 'Celebration of the Arts' month. The Discovery Museum plays host to hundreds of families each week, looking to "discover" new and interesting phenomena. On this day our choir treated many of those families to some novel, but mostly familiar songs.
The program, "Songs for Children," featured nearly 20 songs appealing to our younger generation. Indeed, the families at the performance, supplied with our word sheets enthusiastically engaged in the singing of many of the songs. The audience joined Joyful Noise not only in singing "The Itsy Bitsy Spider," but also in the hand motions. Other familiar tunes sung included "B-I-N-G-O," "Baby Beluga," "On Top of Spaghetti," and "Supercalifragilisticexpialidocious!"
The enthusiasm with which Joyful Noise members sang was equaled only by the joy and exuberance of the receptive audience of over 70. Many members have remarked how "fun" and "cool" it is to sing for children. The staff at the Discovery Museum was, as usual, extremely courteous and helpful, keeping distractions to a minimum while engaging in the performance. The Museum's Program Director, Paul McElwee, was so impressed with the concert that Joyful Noise has been invited back to the museum to perform twice this year: during the holiday season and in the spring.
******
"The performance was both a treat and an inspiration for all who had the opportunity to watch." — Paul McElwee, Program Director
Garden State Discovery Museum
******
Following the concert, choir members, family and staff went out to eat at P.J. Whelihan's. The fun and energy never quite ends with the concert, as the laughing and talking continued over lunch.
We eagerly look forward to our upcoming performances at the Discovery Museum: December 2 at 2:00 PM and Saturday, May 31, 2008 @ 2:00 PM
Kardon Chorale to Join Joyful Noise for Holiday Concert
---
By Allison Fromm
Anne Matlack, a member of Joyful Noise's International Advisory Committee, has a real gift for connecting people through music. Anne was once Allison's Freshman Chorus Director at Yale and now conducts Harmonium Choral Society in Madison, NJ. In April 2002, members of Harmonium joined Joyful Noise for our first joint concert. Together, we sang "Scalloped Potatoes," "The Serpent Song," "Goodnight Sweetheart," and lots of other fun songs!
Now Anne has introduced Joyful Noise to Christine Wineberg, Director of the Kardon Chorale. Affiliated with the Kardon Institute for Arts Therapy in Philadelphia, the Chorale is a community choral group bringing teens and adults with developmental disabilities together with family members and volunteer singers from the community. Just like members of Joyful Noise, singers in the Kardon Chorale love making new friends!
Members of the Kardon Chorale will join Joyful Noise for our Holiday concert at Echelon Mall in Voorhees: Tuesday, December 11 at 7:00 PM. The Kardon Chorale has also invited Joyful Noise for a pizza party and rehearsal on Tuesday, December 4 at Kardon in Philadelphia.
The two choruses will share their special, commissioned pieces with each other. They will sing together Jon Washburn's The "We Love to Sing" Song and Roland Woehr's You Get Proud by Practicing, along with many familiar Christmas carols and Hanukkah songs.
Please come celebrate the holidays by singing with us on Tuesday, December 11 at 7:00 at Echelon Mall in Voorhees, New Jersey!
Take Me Out to the Ball Game: Joyful Noise Sings National Anthem for Camden Riversharks
---
By Nancy Longo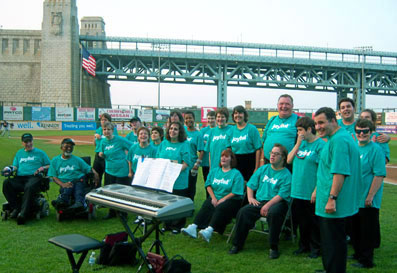 It was a beautiful and memorable night: September 7, 2007, the Friday after Labor Day weekend. The air was filled with a sense of holding onto the spirit of summer and baseball. Campbell's Field, home of the Riversharks in Camden, New Jersey, held many spectators that evening. All were there for the simple pleasure of enjoying a good old-fashioned baseball game.

Such were the emotions of the twenty-five Joyful Noise members present. Yet they had an additional reason for excitement: they had been invited to sing the Star-Spangled Banner to open this Atlantic League Professional Baseball game.

Needless to say, their hearts and souls were beaming with pride, anxiety, anticipation, and, of course, joy. They arrived early to practice on the field, and during a resting moment, were unexpectedly visited and hugged by Riversharks' mascot, Finley. Members burst with enthusiasm as Finley "helped" to conduct their singing and played the keyboard! Then the big moment came. The group stood at attention with the American flag waving in the background and sang for all to hear Joyful Noise.

Members were also thrilled that their performance was filmed for broadcast on NBC News Channel 10 later that evening. They then settled in to enjoy the Bancroft summer picnic at the ballpark with all their friends.
view the Riversharks photo album
The Dream Begins: Bancroft Day 2007
---
By Martha Henriksson-Witt (a Swedish Joyful Noise fan)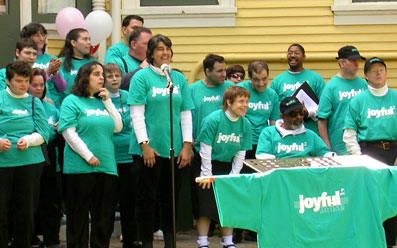 Feeling a little tired and cold, I arrived at the Bancroft grounds in Haddonfield for Bancroft Day – The Dream Begins. The sun was shining and the air was clear and crisp. All around people were getting organized and setting up their tables. The street was soon filled with families and friends. At noon the crowd was ushered to the side because the parade was about to begin, and very soon all you could hear was "joyful noise!" The choir enthusiastically moved down the street as they sang loudly and clearly, first in Zulu and then in English: "Siyahamba ekukhanyen' kwenkhos' … We are marching in the light of God." What a wonderful march!
After arriving at Lullworth the choir assembled in front of the house and proceeded to sing a dozen songs that had been carefully chosen for the occasion. Joyful Noise's dedicated conductors, Allison Fromm, Cathy Sonnenberg, and Mark Gary, had put together a wonderful program. The selections encompassed a variety of well-known classics and music that had been specially composed for the choir, each song being equally enjoyable to listen to. Two songs that particularly stayed with me after the concert were: "Our Favorite Things" and "This Land is Your Land." Joyful Noise also dedicated two songs to the memory of Randy Welsh: "Memories Flow," composed for the chorus by Alice Parker, and "Margaret Bancroft's Dream" with words written by Bancroft's own Debbie Conner.
It became apparent to me that Joyful Noise is the result of great cooperation between the singers and conductors, and the result is magic! Prior to this weekend I had never heard a Joyful Noise performance, and now I certainly hope to hear the chorus again in the future. October 14, 2007 turned out to be a day that I will remember for many years to come. Many thanks to the members of Joyful Noise for giving me such an inspiring experience!
Best wishes to you all and good luck with future performances!
Joyful Noise Launches Fund Drive with Baja Bash
---
By Cathy Sonnenberg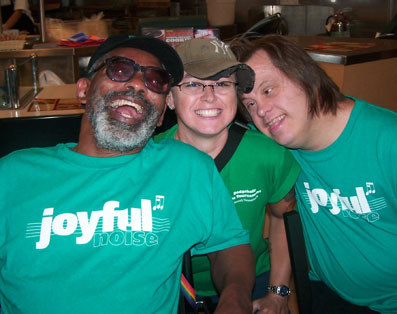 On August 26, Joyful Noise took its first step on the road to Hartford, Connecticut for our "Mission to Inspire." Over 60 of our family and friends gathered at Baja Fresh on this steamy summer Sunday in Voorhees for the first fundraiser in the history of these joyful singers.
We feasted on the Mexican fare Baja Fresh offered and enjoyed our friends in a true party atmosphere. After dinner Joyful Noise sang two repertoire favorites: "You Are My Sunshine," and "Don't Throw Your Trash In My Backyard" for our appreciative audience.
Baja Fresh donated 15 percent of the net sales from our many supporters.
view the Baja Bash photo album